2022 World Cup Odds Favor Brazil, Argentina, And France Heading Into Round Of 16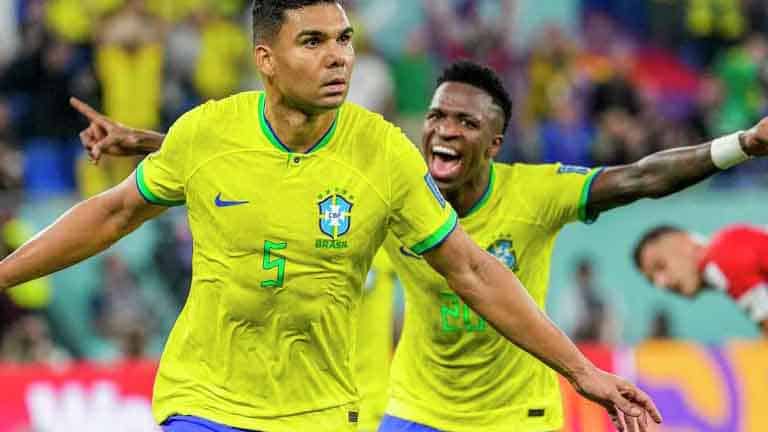 The teams qualifying for the round of 16 in the 2022 World Cup are almost decided as the group stage nears its completion. World Cup odds still favor Brazil, France, and Argentina to win the entire tournament,
Both France and Argentina have already advanced to the round of 16, and Brazil has Group G all but wrapped up after winning their first two games and being favored to win tomorrow against Cameroon at online sportsbook sites.
Some knockout round matchups have already been set, inspiring World Cup betting lines at online football sportsbooks that cater to the Ireland market.
Despite a strong performance from Poland thus far in the 2022 World Cup, betting odds suggest that France is a 1.5-goal favorite in their matchup that's scheduled for this Sunday.
France vs. Poland Betting Line
Spread: France -1.5, Poland +1.5
Moneyline: France -330, Poland +1100
Draw: +455
Over/Under: 2.5
Also this Saturday, Argentina faces an elimination match against Australia, a team that is a massive underdog at -2.0. Australia's +1600 moneyline will deliver 16-to-1 net payouts if they can overcome their poor World Cup odds and knock off Argentina from the tournament.
Argentina vs. Australia
Spread: Argentina -1.5/-2.0, Australia +1.5/+2.0
Moneyline: Argentina -500, Australia +1600
Draw: +620
Over/Under: 2.5/3.0
The round of 16 is also referred to as the knockout stage because, from henceforth, all games are single elimination. There is no longer the option for a draw, as the game will go to extra minutes and penalty kicks to decide contests that are tied at the end of regulation.
World Cup betting lines at online sportsbooks and at domestic casinos include an option for wagering on a draw, and that's because all action is based on the results of the 90-minute contest without including overtime periods.
Another frustrating element of betting on World Cup matches is that the time is kept on the field by the officials, and the on-screen clock only measures uninterrupted 45-minute halves without consideration for injuries and other stoppages.
That creates for an excruciating final few minutes as the game clock ticks north of 90 minutes, and the contest is within a goal.
One of Ireland's top online gambling sites, BetOnline, is offering the following World Cup prop bets that capitalizes on potential overtime nailbiters starting with the knockout round.
How many World Cup matches will go to Extra Time?
Over 4.5 Matches -115
Under 4.5 Matches -115
How many World Cup matches will go to Penalties?
Over 2.5 Matches -125
Under 2.5 Matches -105
Total Missed Shootout Penalties
Under 7.5 Penalties -145
Over 7.5 Penalties +115
Total Number of Extra Time Goals in Tournament
Over 3.5 Extra Time Goals -115
Under 3.5 Extra Time Goals -115
While there are live betting lines that allow for in-match wagering on World Cup games, the above football props may not last until the opening whistle of the knockout round.
The above 2022 World Cup props indicate that at least two games will enter overtime periods, suggesting a thrilling conclusion – or two! – in the upcoming tournament games.
All of the above props will not cash in until the conclusion of the World Cup Tournament but won't likely remain on the boards after the initial games begin this weekend.
2022 World Cup Betting Odds And Props – BetOnline Sportsbook
Source – The Guardian