Ireland Legal Online Poker Sites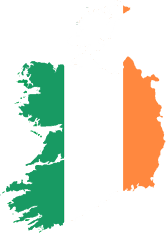 Online poker is legal in Ireland, from both Irish based poker sites and licensed offshore poker rooms online. With the limitations posed by land based poker gambling options in Ireland, online poker has successfully supplemented the market for Irish players by providing an expanded range of opportunities to play poker as well as an innovative, feature rich platform from which to enjoy cutting edge game play.
Online poker at the leading online destinations offers some perks that land based poker gambling is unable to bring to the table. Some of these perks include 24/7 access, multi-hand and multi-table options, lightening rounds of super fast game play, sophisticated statistical and analytical data monitoring tools and an active tournament schedule. The legally sanctioned online poker sites we feature in this guide all deliver this caliber of gaming and are considered among the best for legal Ireland online gambling sites.
Most Reputable Online Poker Sites Accepting Irish Players In 2023

Following is our highest recommendation for Irish punters seeking legally sanctioned online poker action. This poker room is the most trusted brand among international gambling sites.
They offer a premium online poker gaming experience through a feature rich, highly secure and impressively robust environment. It is a solid destination for players of all skill levels and bankroll sizes. You will find a similar list of recommendations for our preferred Legal Ireland online casinos as well.
Terms And Conditions Apply To All Promotional Offers – 18+ Only
Site Name
Bonus
Rating
IE
Visit
100% Max $2,500


18+ Only - T&Cs Apply

PLAY NOW
100% Max $2,500


18+ Only - T&Cs Apply

PLAY NOW
Legal Poker Gambling in Ireland
Commercial poker rooms are prohibited by the Gaming and Lotteries Act of 1956. Poker is an extremely popular form of gambling in Ireland, and is available in much the same way that casino and bingo gambling are, through gambling clubs. Live poker is played at the various gambling clubs, which are located in four regions within Ireland.
The bulk of the clubs are located in Dublin. Each club has a handful of table games that include poker. These clubs are smaller than the average land based casino, and poker playing options are limited, but it's the best options available for those seeking legal live poker games in Ireland.
Poker Tournaments for Irish Poker Players
The Irish Open Poker Tournament is hailed as Europe's largest and most prestigious poker tournament. It is also the 2nd longest running No Limit Texas Hold Em tournament in the world. It is not uncommon for players to enter live qualifiers for the Irish Open Poker Tournament through an online gambling site promotion. Legally sanctioned online poker sites also offer robust poker tournament action and highly active schedules that often operate around the clock.
FAQs
How Do I Find Safe Online Poker Sites For Irish Players?
There are some key elements that must be present in order for an online poker site to be able to securely and legally offer their gaming services to Irish punters. First and foremost, the site must be legitimately licensed and regulated either by the Republic of Ireland or by a legitimate offshore governing jurisdiction that has already legalized online poker for its respective territories.
Along with licensing and regulatory oversight, the site should also possess compliance certifications that verify the results of third party auditing of their software performance and RNG technology.
Once legitimacy is adequately verified, it is time to evaluate their security profile and the quality of their overall operation, including their software solution, technological performance, quality of their interface and graphics, site design, banking suite and customer support. When we place a gambling site through out review process, we examine hundreds of elements, effectively exposing questionable destinations and revealing the industry's top brands.
By relying on the input of industry professionals in selecting your preferred online poker site, you are ensuring that you access only the best possible options for a secure and high quality gaming experience. These concepts all apply for seeking legal Ireland online sportsbooks and legal Ireland online bingo sites as well.
What Kinds of Poker Games Can I Play Online in Ireland?
Legally sanctioned Irish friendly online poker sites offer a decent number of games to choose from. The most commonly found games include Texas Holdem, Omaha, 7 Card Stud, 5 Card Draw and sometimes some more exotic poker renditions. Each poker site offers a different selection, so the game options will vary from site to site, but you will find Texas Holdem and Omaha at nearly all of the reputable online poker sites.
How Old Do I Need To Be To Play Poker Online in Ireland?
The gambling laws in Ireland require punters to be at least 18 years of age in order to place a bet. Most online poker sites also accept players at age 18. Due to the legal gambling age being 21 years of age in various international regions, some online poker sites do establish a minimum age requirement of 21. The registration requirements for the online poker site at which you are visiting will indicate that site's policy regarding their policy for a minimum gambling age.
What Are Online Poker Bonuses, and Are They Legit?
Online poker bonuses are the promotions offered by some online poker sites designed to attract or keep existing players players happy.  Usually these offers are a match deposit bonuses in which the poker site matches a specific portion of your deposit. Unlike casino bonuses, online poker bonuses are dispersed incrementally and always have terms and conditions that apply.
Will Commercial Poker Rooms Become Legal In Ireland In The Future?
How soon this happens for Irish poker players will depend on when and if the Gambling Control Act of 2013 ever sees the light of day in Parliament. This law establishes a regulated land based casino gambling initiative that will include poker games as well.
Is it Legal For Irish Punters To Play Poker at Offshore Online Poker Sites?
Absolutely. Online gambling is legal in Ireland, and this includes online poker. Ireland has established a licensing policy and taxation procedures for incorporating international online poker sites into their gambling market. Irish citizens that play poker online are not violating any of Ireland's national gambling laws.